Courage to Inspire, Strength to Empower Award
The Courage to Inspire, Strength to Empower Award (based on Adelphi University's award of the same name) was created in 2021 to recognize outstanding female student leaders whose service and commitment to excellence benefit and inspire the members of the Shepherd Ram family.
The award recognizes a student who, through meaningful philanthropic work on- and off- campus, embodies the commitment of WISH to impact and enhance the Shepherd community.
The winner is announced during the annual WISH Membership Program and is invited to vote as an honorary member for the next year's grant awards. Nominations are currently closed. 
2022 Award Winner- Alyssa Nazarok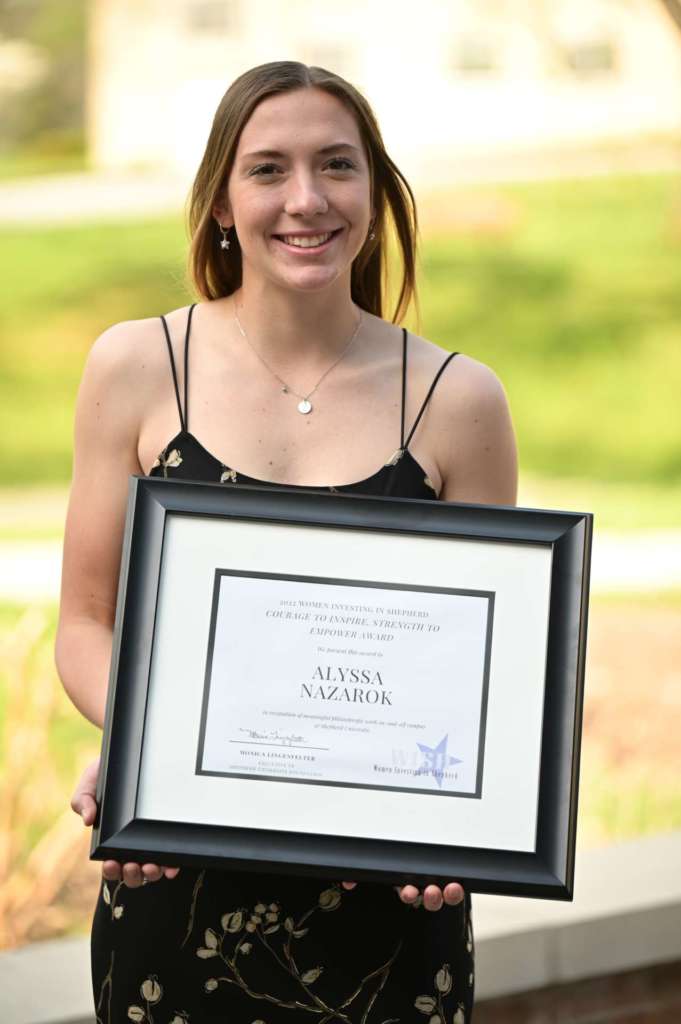 Alyssa was nominated by Assistant Director of Student Engagement Rachael Meads, who said in her nomination that Aly is "one of the most inspirational student leaders we have on campus." She continues to impress with her strong leadership skills, professionalism, outstanding work ethic, gift for diplomacy, and dedication to civil engagement.
As a member of the women's soccer team, she was elected team captain in recognition of her commitment to the team and her inspirational support of others. She leads by example and commands respect in every room she enters.
Aly is an honors student and member of Phi Kappa Phi Honor society, as well as Pi Sigma Alpha Political Science Honorary. She was selected to present her capstone research project at the 19th Annual Undergraduate Research Day in Charleston on behalf of Shepherd this spring.
Aly currently serves on not only the Student Government Association Executive Board as Parliamentarian, but she also serves as a leader on the Stubblefield Institute's Student Advisory Board. In the past two years, she has helped the Institute expand their impact through her programs and outreach. One such program is the "'Not Your Parents Debate' Debate", where she acts as moderator. She has also facilitated multiple activities to break down political divides and has participated in the Model United Nations.
As a testament to her heart for service and tremendous compassion for others, Aly has organized more than a dozen voter registration drives and has set up the Student Government elections and Constitutional revisions. Most recently, she was the lead on the Glow for a Cause Fun Run that was held earlier this month to raise funds for Shepherd's Make a Wish child.
Whether leading a staff, executive board, or a group of volunteers, Aly is calm, assertive, trustworthy, and able to face challenges with resilience and creativity. She is truly the embodiment of what it means to be a member of WISH- with the courage to inspire and the strength to empower.
Past Recipients
Danielle Stephenson, 2021