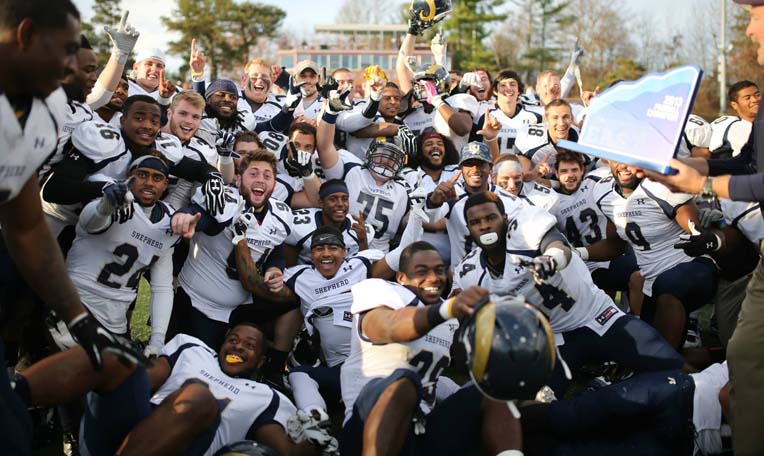 Shepherd University is committed to providing each of our 350 student-athletes with the highest quality experience during their tenure as a Ram. Through the loyal support of donors, Shepherd continues to be a premier NCAA Division II athletics program. Generous support from private donors provides student-athletes with opportunities for academic excellence, competitive success, and personal development both on and off the fields of play for a lifetime of achievement beyond collegiate athletics. Perhaps as impressive as Shepherd students' athletic prowess on the field is the equally high standards they strive for and achieve in the classroom – six of our 12 NCAA Division II teams carry a cumulative GPA of 3.0 or better. Please visit Shepherd Athletics for more information or to make a donation. You may also give to individual athletic scholarships or to the individual athletic programs listed below. All gifts to the athletic department and athletic programs are for immediate use.
Individual Athletic Programs
Cheerleading
Cross Country
Men's Golf
Women's Golf
Men's Soccer
Tennis
Women's Basketball
Women's Soccer
Baseball
Football
Men's Basketball
Softball
Swimming
Volleyball
Women's Lacrosse
Tim Zeigler
Assistant Athletics Director for External Affairs
Create a Legacy: Create Your Named Endowment
Have you ever considered creating a legacy for yourself or someone you wish to honor through a named endowed award fund? Named endowments may be established through the Shepherd University Foundation to support Shepherd athletics through student scholarships or athletic program awards. Charitable gifts to create named funds are permanently invested by the Foundation to provide a perpetual source of annual awards. Endowments may be established with a minimum gift of $25,000 to which donors may choose to pledge funding over a period of 3-5 years, or provide funding through a make a deferred gift. Deferred gifts include bequests or other planned gifts, such as naming the Foundation as the beneficiary of a trust, annuity, or insurance policy.
To learn more about creating your own named endowment, please visit Gifts that Endure or contact:
Sherri Janelle
Interim Executive Vice President