Are You Ready to Leave Your Mark?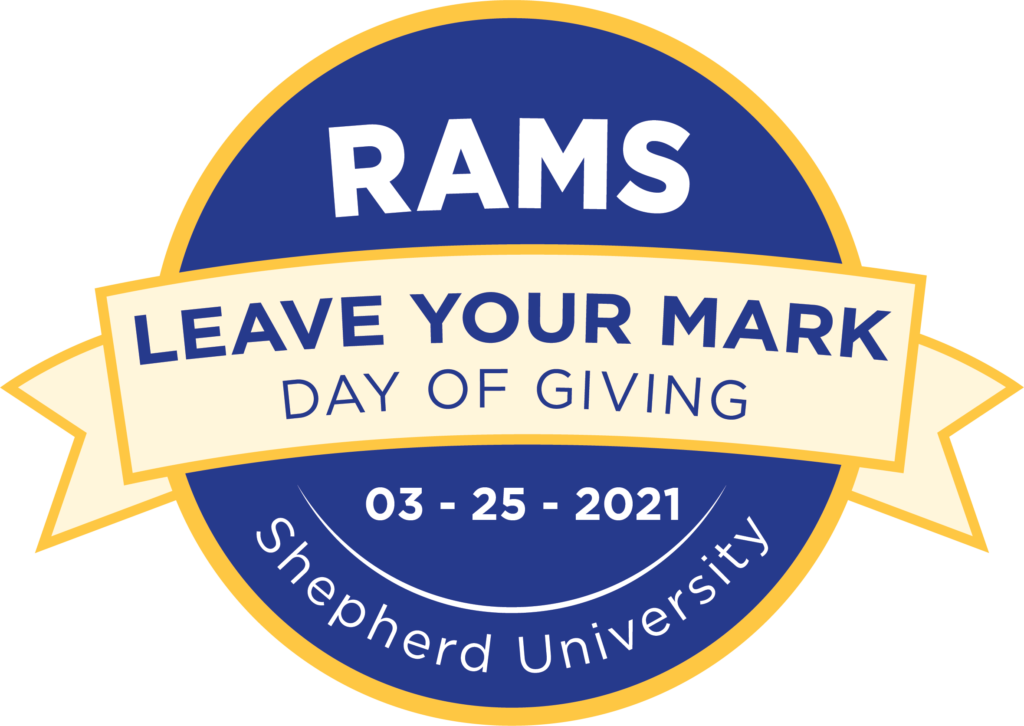 Thursday, March 25, launches Shepherd University's second annual Giving Day! For 24-hours, we are asking members of our community to make a gift in support of the programs, scholarships, and experiences that make Shepherd so special.
Make your gift, share it on social media, and challenge your friends to donate. Please join us as students, alumni, parents, and friends come together to show their Ram pride. Visit our Advocate Tool Kit to learn the different ways you can "leave your mark!"
To make your online gift, click the logo at the top right hand of the page.
Checks in support of Day of Giving can be mailed to Shepherd University Foundation, PO Box 5000, Shepherdstown, WV 25443.
FAQ
Why is Day of Giving Different Than Any Other Day?
Thanks to a group of generous donors, every gift on Day of Giving helps earn bonus funds for Shepherd University. In other words, every gift makes an even bigger impact.
There will also be special one-time challenges that will give areas at Shepherd the chance to compete for additional matching funds. You make a huge difference when you give to Shepherd. And for 24 hours on Day of Giving, your gift can do even more.
How Can My Gift Be Counted Toward Day of Giving? 
All gifts made on March 25 (midnight to midnight, EDT) count toward Day of Giving 2021.
Can Anyone Participate in Day of Giving?
Absolutely. Support from everyone in the Shepherd community (family, friends, fans, staff, students) counts on this day.
Where Does My Gift Go?
Gifts go where donors want. You may choose to designate your gift to any Shepherd school or college, to athletics, to your favorite club or organization, or to any of our many other funds.
Will 100% of My Gift Go Where I Designate It?
Yes!
Is My Payment Secure?
Yes. All payments will be processed using a secure online giving form. The information collected during Day of Giving will be used only by the Shepherd University Foundation.
Will My Gift Be Tax-Deductible?
Yes. 100% of your donation is tax-deductible. When you donate  through GiveCampus, you will immediately receive an email containing a tax receipt.
Can I Make A Recurring Gift?
You can always make a recurring gift at https://shepherduniversityfoundation.org/donate/. However, all gifts made through the Day of Giving site will be processed as one-time gifts.
I Still Have Questions. How Can I Get in Touch?
Feel free to send us an email at [email protected] or call us at (304) 876-5526.