WVU Medicine Foundation donates $10,000 to benefit nursing department
The WVU Medicine University Healthcare Foundation recently donated $10,000 to the Shepherd University Foundation for the Shepherd Success Fund.
The Shepherd Success fund, created by Shepherd University President Mary J.C. Hendrix and her husband, Charles Craft, provides support for the university's future by funding initiatives critical for training the next generation.
The University Healthcare Foundation's donation will be matched by the success fund for a total gift of $20,000 to support Shepherd's nursing department.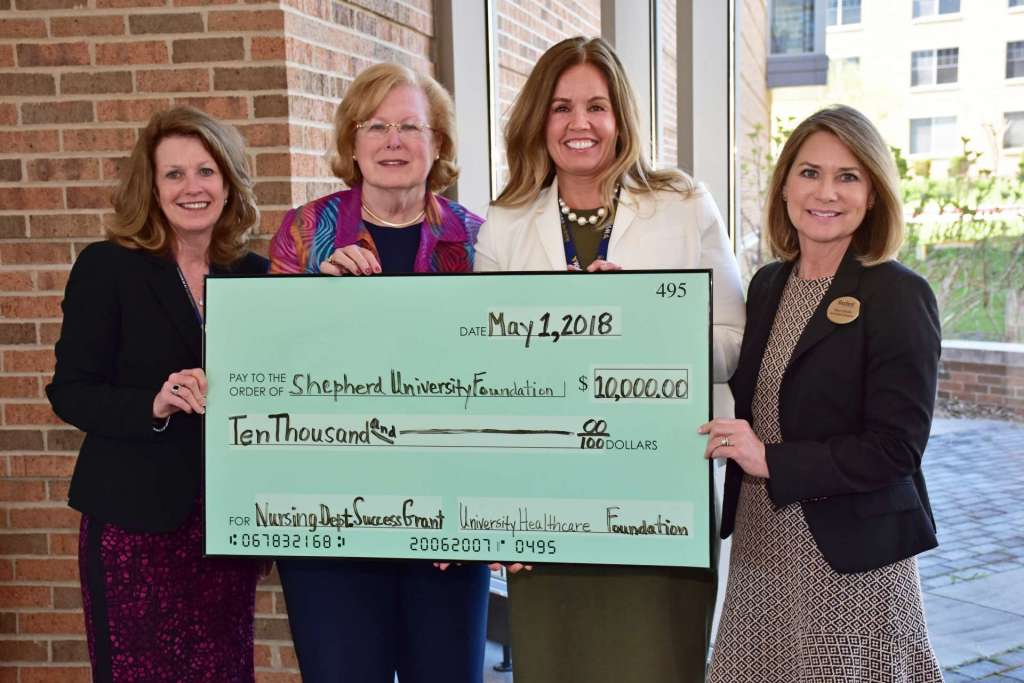 According to Dr. Sharon Mailey, acting dean for and chair of Department of Nursing Education, the money will be used to purchase an abdominal simulation trainer, and a ventilator, and will fund special projects in the department.
"Partnerships with our community agencies allow Shepherd to stay on the leading edge of care as we prepare our students for the professional workforce," said Mailey. "The Berkeley Medical Center collaborative allows our students to obtain the most current training tools to enhance skill sets for practice. Our interdependence for student learning and producing B.S.N. nurses for the healthcare workforce, make for a great partnership with Berkeley Medical Center and Shepherd's nursing department."
The mission of the University Healthcare Foundation, which provides philanthropic support for WVU Medicine Berkeley and Jefferson Medical Centers, is to improve health and healthcare services in the Eastern Panhandle.
"Collaborating with Shepherd University to strengthen nursing education locally will help support the healthcare workforce at our WVU Medicine hospitals," said Samantha Richards, M.S.N, M.B.A., R.N., vice president and chief nursing officer at Berkeley Medical Center and Jefferson Medical Center.
For more information about the WVU Medicine University Healthcare Foundation, contact Teresa McCabe, vice president of marketing and development, at 304-264-1223, or [email protected].