Donor Highlight with Donald and Jacquelyn Parsons
Longtime supporters of Shepherd University, Donald and Jacquelyn Parsons's bequest to Shepherd University Athletics will ensure that their unwavering support of the Shepherd Rams persists in years to come. The gift will be used for the benefit of Shepherd Athletics students and programs.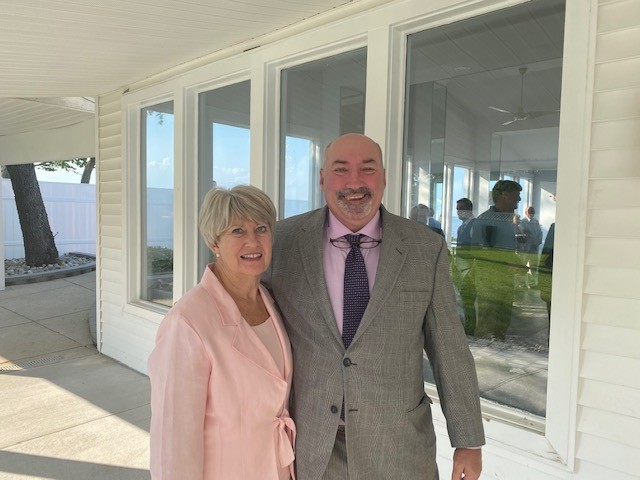 "We're close followers of the Rams and believe in the mission and direction set forth by Vice President of Athletics Chauncey Winbush," said Donald, a 1985 Shepherd graduate.  During his academic career at Shepherd, he also worked with the Shepherd Athletic Department as the College's Assistant Sports Information Director.  His responsibilities included writing press releases for local newspapers and feature articles for the media guides for football, basketball, softball, baseball, tennis and swimming, providing in game and post-game statistics compilations for live Shepherd athletics events, and providing color commentary for Shepherd Men's basketball games.  He is most proud of his work as the Public Address Announcer for Shepherd Women's basketball games. Don and Jackie are strong advocates for women's athletics at all levels.
In addition to his support of athletics, Donald stated that a highlight of his academic career at Shepherd was receiving the 1985 James S. Hafer Memorial Award, designated for the outstanding student in the political science department.
Jacquelyn attended school in Washington D.C. but shares Donald's enthusiasm for the Rams. Donald and Jacquelyn were both bankers in the Washington D.C./Baltimore area. Now retired, Donald currently serves as the Finance Chairman on the Board of Directors for CareFirst Blue Cross Blue Shield, Inc in Baltimore while Jacquelyn volunteers three days per week at her granddaughter's elementary school.   Donald and Jacquelyn most enjoy spending time with their four children and ten grandchildren.  In his free time, Don plays a little golf.
"I'm very thankful to Shepherd College for all it has done for me and I owe a debt of gratitude to the institution for my career and where I am today.  Jackie and I love the University and want to do all that we can to help it thrive now and in the future."
The support of Donald and Jacquelyn will help to carry on the passion they hold for Shepherd University Athletics and Shepherd University.
To learn more about creating a named fund through the Shepherd University Foundation, please contact the Shepherd University Foundation, P.O. Box 5000, Shepherdstown, WV, 25443-5000, 304-876-5397 or visit https://shepherduniversityfoundation.org.