Women for Shepherd raises money for Popodicon with Little Black Dress Party
More than 50 alumnae, community members, faculty, and staff attended the Little Black Dress Party: Popping for Popodicon on Wednesday, May 9, at historic Popodicon, the business residence of Shepherd University President Mary J.C. Hendrix. Women for Shepherd University and the Shepherd University Foundation sponsored the event.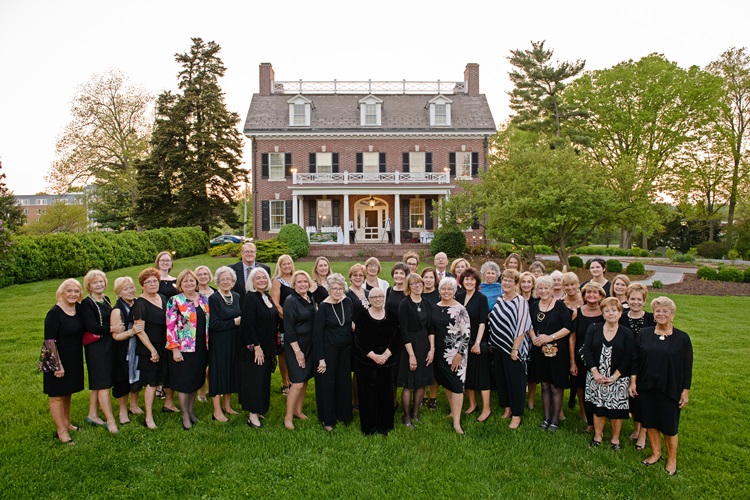 The Little Black Dress Party, which was the 11th marquee event for Women for Shepherd, raised more than $2,000 to support Friends of Popodicon, a group dedicated
to the restoration and beautification of the presidential home. Through the group's efforts, Popodicon has seen significant upgrades over the past two years to its interior spaces and outdoor gardens. A complete renovation of the kitchen, powder room, and laundry room is now underway.
"It is an honor to be a part of an effort to renew Popodicon to its original beauty," said alumna Mary "Peachy" Staley, who was personally contacted by Hendrix to spearhead the group. "Having the Women for Shepherd support the renewal with a little black dress event solidifies the community connection to this beautiful home."
Women for Shepherd planning committee members Sherri Janelle, Meg Peterson, and Sue Mentzer-Blair were instrumental in organizing the event, which featured a wine pull raffle. Along with several individually gifted wine bottles, corporate sponsors Martin Distributing Company, Reid's Distributor, and Ye Olde Spirit Shop made the raffle possible through donations.
Visit our photo gallery to see more images from this event, courtesy of Sam Levitan Photography. And if you would like to learn more about Women for Shepherd or help plan future events, contact:
Meg Patterson
Director of Donor Relations