Shepherd alumni Al and Sara Lueck donate piano to All-Steinway Campaign
The Shepherd University Foundation announces a noteworthy gift in support of Shepherd's All-Steinway Campaign. The contribution was made by Shepherd alumni and Shepherdstown residents Allen and Sara Lueck and was used to purchase a Boston UP-126 Performance Edition upright piano designed by Steinway & Sons.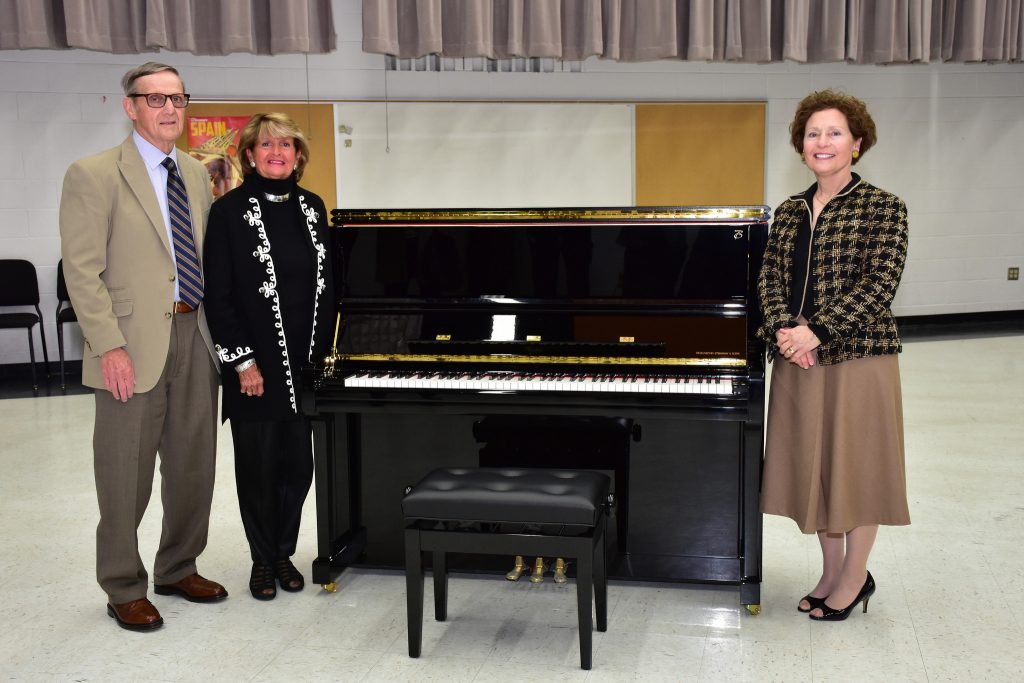 The Luecks, both 1967 Shepherd graduates, chose to designate their gift in memory of Sara's elder sister, Drema Taylor Reed, who died in August 2017. A graduate of New England Conservatory in Boston, Reed returned to her hometown of Lewisburg, where she became the "traveling" music teacher for Greenbrier County, teaching music lessons over the radio. Reed later married and moved to Parkersburg, where she taught music at the local junior high school and offered private piano lessons.
Sara Lueck and her twin sister, Sue Edwards, of Bedford, Pennsylvania, were especially close to Reed, who was 16 years their senior.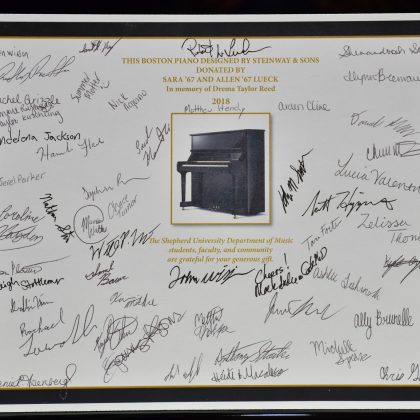 "She was like a second mother to Sue and me," explained Lueck.
When Shepherd launched its All-Steinway Campaign in October 2017, Allen and Sara Lueck saw an opportunity to directly impact students studying music while also paying tribute to Reed's life and legacy.
"We are happy to assist Shepherd's Department of Music in acquiring this Steinway Boston upright piano," the Luecks said. "We feel proud knowing that the music department and the university in general are always moving forward."
Family and friends of Reed were present for the April 5 delivery of the piano purchased with the Luecks' gift. Considered the workhorse of the piano fleet, the Boston upright piano will be placed in a practice room in order to be readily accessible to Shepherd students. The university seeks to procure a total of 17 Boston upright pianos.
To earn the All-Steinway School designation, 90 percent of Shepherd's pianos must be Steinway-made. Shepherd has committed to investing in 28 new Steinway & Sons pianos, ensuring that students studying and performing music at all levels will have access to the finest pianos in the world in every university practice room, teaching studio, and performance space.
For more information about the All-Steinway Campaign and how to contribute through the Shepherd University Foundation, visit shepherd.edu/Steinway or contact Stacy McFarland, director of annual giving, at 304-876-5526 or [email protected].