Roger P. Parker Memorial Scholarship pays tribute to "Father of Shepherd Tennis"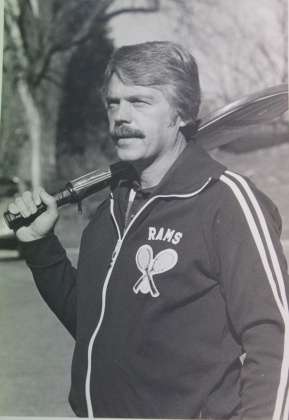 Roger Parker coached several sports during his 31-year career at Shepherd University, including football, cross country, and track and field. But it is his establishment of the men's and women's tennis programs for which he is most well-known.
Widely considered to be the "Father of Shepherd Tennis," Roger's success as a coach is legendary. His teams won five WVIAC Team Championships and four NAIA District Championships, while his players earned three WVIAC Player of the Year awards, two Academic All-America recognitions, and over 50 WVIAC individual championships. As a result of his coaching techniques, strategies and team performances, Roger was named Coach of the Year five times by the WVIAC, and was inducted into Shepherd University's Hall of Fame in 2002.
Upon his passing in 2012, in lieu of flowers, Roger's family requested donations be made to a memorial fund in his name through the Shepherd University Foundation. The family has continued to donate to the fund, resulting in the endowment of the Roger P. Parker Memorial Scholarship in support of student athletes in the men's and women's tennis programs at Shepherd.
"We wanted to help students through the creation of a scholarship, and we wanted to designate it in support of the tennis program in order to connect it to my father and his legacy at Shepherd," explained Roger's son, Chris Parker '82. Chris recalls growing up on Shepherd's campus with his siblings, Mary Jo and Tim, during their father's coaching tenure. Later, all three Parker children and their mother would attend the university, with Chris noting ironically that his father was the only member of their family who was not a Shepherd graduate.
"Dad was a heck of a competitor in tennis," said Chris, noting that Roger received his pro certification from Van Der Meer Tennis Academy in Hilton Head, SC, and continued to compete at a high level throughout his life. "It almost seemed meant to be for him to create the tennis program at Shepherd."