Lou Drummeter: Paying It Forward
Sharon Drummeter was a well-loved and respected assistant nursing professor at Shepherd University, having joined the nursing department as a visiting professor in the fall of 2008 with a clinical specialty in critical care nursing and gerontological nursing. Sharon was an expert clinician and maintained her clinical practice competencies working with both the Berkeley County Health Department and ICU at City Hospital during her tenure at Shepherd.
Service and volunteerism were hallmarks of Sharon's contributions to Shepherd and she was extremely devoted to her students. When she was diagnosed with Acute Myeloid Lymphoma in July 2011, Sharon mentored the medical students on her treatment team at Georgetown University Hospital and viewed her chemotherapy treatments as an opportunity to help them refine their diagnostic and bedside skills.
"She was always focused on her students," said Louis Drummeter, Sharon's husband of 29 years. "She really tried to mentor her students and give them the benefit of her experience, which I think is key in education."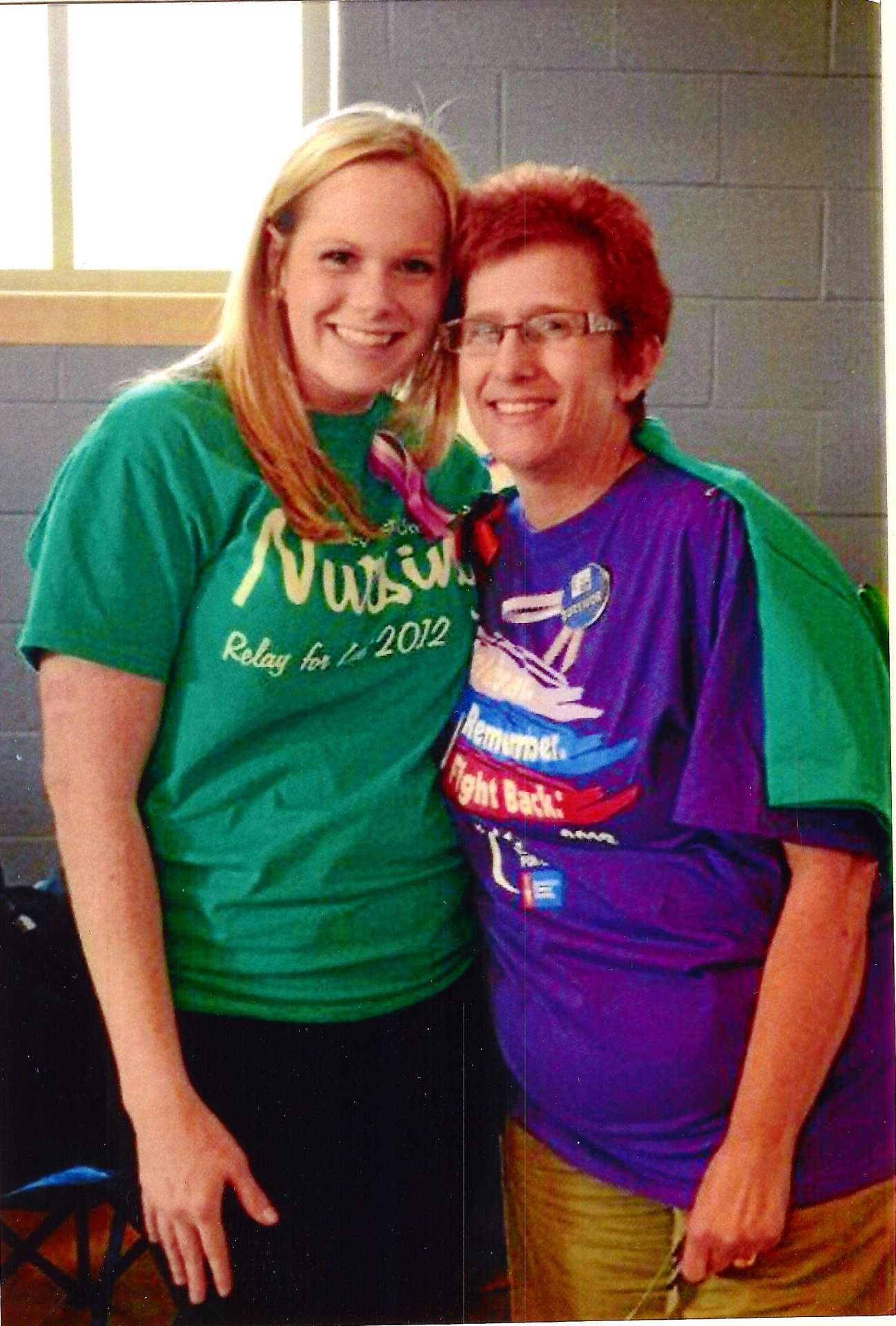 Sharon Drummeter poses with one of her nursing students during Relay for Life in 2012
Despite a period of remission from December 2011 through July of 2012, Sharon succumbed to her cancer on August 27, 2012 with her husband and daughter, Leah, by her side. As a token of his gratitude to Shepherd for being so supportive during Sharon's illness, Lou established the Professor Sharon R. Drummeter Endowed Scholarship for Nursing in June 2013.
"Sharon was the recipient of a nursing scholarship when she started nursing school for her associate's degree," Lou said, noting that giving back was something Sharon always did during her life.
Pictured above: Lou Drummeter chats with Dr. Jason Best, professor of astronomy and astrophysics and member of the Foundation's Board of Directors, at the annual Joseph P. McMurran Society Dinner Reception in April 2014.