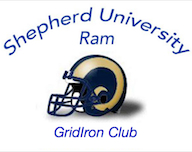 Gridiron member and Shepherd alum Ken Boone has issued a challenge to the Shepherd University Football Gridiron Club. Ken will match the first $20,000 raised by Gridiron through September 15, 2018. These funds will enable the Gridiron Club to provide additional financial assistance to football by adding $40,000+ to better support the program. Please consider making a one-time donation that will give us the opportunity to meet Ken's generous offer.

To give by check, make payable to Shepherd University Foundation and send to:

Attn: Katie Gordon, Shepherd University Gridiron Club

Shepherd University Foundation

PO Box 5000

Shepherdstown, WV 25443

You may also call Katie Gordon at 304-876-5524 or [email protected] for assistance in making a gift.