New Foundation scholarship supports aspiring string musicians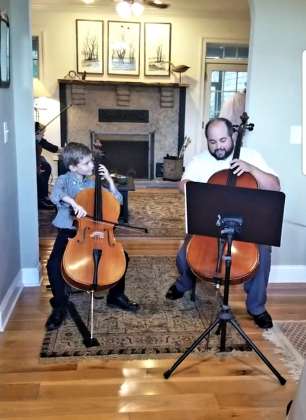 In 2006, Judy Rand moved from Annapolis to Shepherdstown seeking a quieter life. An adult amateur string musician, she was also drawn to the town's culture.
"This is a really fantastic town for the arts," said Judy, who plays the violin and viola and enjoys participating in music camps up and down the east coast throughout the year.
Seeking a way to play chamber music with likeminded local musicians as well, she soon joined the Shepherd Community Orchestra, which provides opportunities for over 70 local string and wind students to play in a community and youth orchestra of outstanding caliber. The group is comprised of a Junior String Ensemble for beginner and inexperienced students, as well as an Advanced Orchestra for advanced students and adult community members. Youth members include elementary, middle, and high school string students from Jefferson and Berkeley Counties in West Virginia, and Washington County, MD.
As a result of her nearly decade-long involvement with the Community Orchestra, Judy has now chosen to establish the Judy Rand and Friends Scholarship for Aspiring String Musicians. The annually funded award provides stipend money to defray the cost of private lessons for aspiring youth musicians to study with adjunct faculty leaders within the community music division of Shepherd University's Department of Music.
"The award funds will go to Shepherd faculty, which will also benefit students participating in the orchestras because they'll be able to take private lessons from highly qualified people," said Judy, who has gotten to know many of the orchestra's youth participants. "I'm aware of quite a few students who aren't able to afford private lessons, and I just thought maybe there was a way to use the same dollar for two purposes."
Judy and her partner, Rebecca Grace Jones, plan to host fundraisers for the scholarship in their Shepherdstown home. The first was held in the Fall 2018 semester and featured student performers from Berkeley and Jefferson Counties, along with their instructors, including cellist Leo Clark and his teacher, Camilo Perez-Mejiaat, pictured above.