Courage to Inspire, Strength to Empower Award
The Courage to Inspire, Strength to Empower Award (based on Adelphi University's award of the same name) was created in 2021 to recognize outstanding female student leaders whose service and commitment to excellence benefit and inspire the members of the Shepherd Ram family.
The award recognizes a student who, through meaningful philanthropic work on- and off- campus, embodies the commitment of WISH to impact and enhance the Shepherd community.
The winner is announced during the annual WISH Membership Program and is invited to vote as an honorary member for that year's grant awards. Nominations are currently closed. 
2021 Award Winner- Danielle Stephenson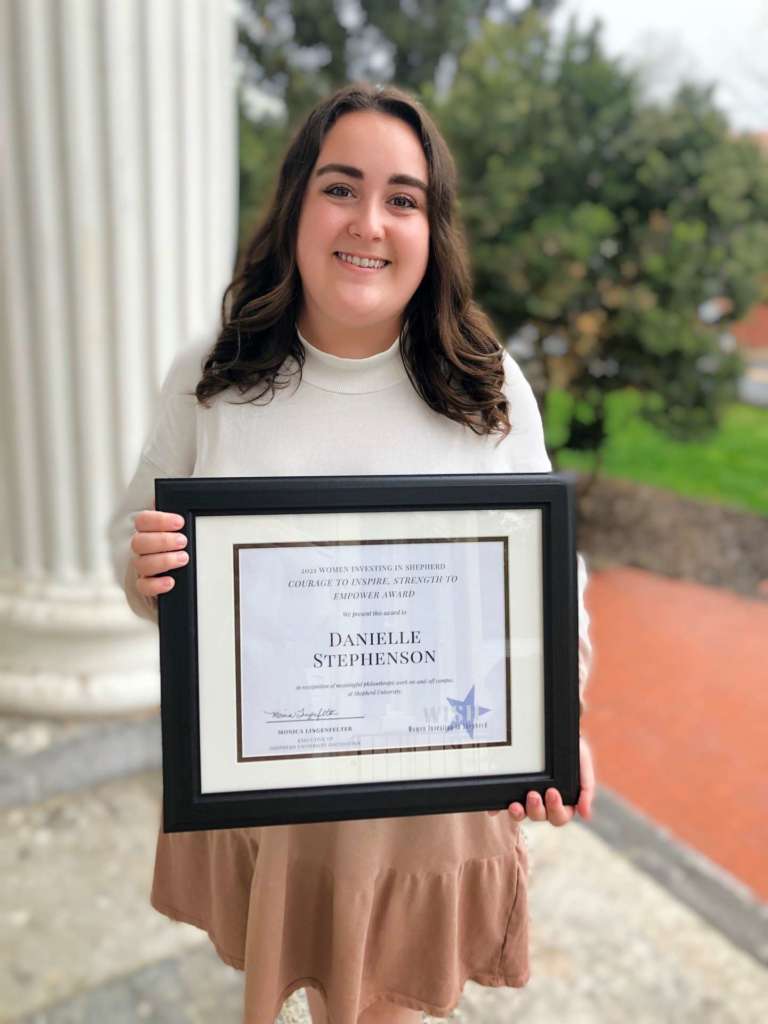 Danielle has served both the Shepherd and her local community in extraordinary ways. Since her time began as an undergraduate student in 2016, she has raised over $2,000 for Children's Miracle Network Hospitals and has traveled over 1,000 miles to educate West Virginia Youth on the drug epidemic through her self-created program "Too Smart to Start." Danielle has served with the Student Government Association as both President and Vice President, advocating for the needs of her peers with the goal of making Shepherd a place where all students can thrive. She also served on the Shepherd University Board of Governors and, during her time as a sister of Delta Zeta sorority, served as Vice President of Philanthropy. Danielle's other notable achievements include planning events for local agencies such as the Eastern Panhandle Empowerment Center and national charities such as the Starkey Hearing Foundation and serving as a West Virginia Cherry Blossom Princess.
In her current role as the Graduate Assistant for Student Community Service at Shepherd University, Danielle has been collecting and delivering items to the Ram Pantry, which was created to help food-insecure students, faculty, and staff. She has also been working on establishing a Zoom Mentor Program in partnership with Jefferson County Schools. This program will support K-12 students in the local community and provide them with a Shepherd University student mentor during this unprecedented and mainly virtual time in which we are living. Most recently, Danielle has been promoting her newest initiative titled "G.I.V.E Through Volunteerism" which aims to bring volunteer activities directly to West Virginia residents.
Danielle's dedication to her community is admirable, and it is evident that she embodies the Shepherd tradition of "service is our norm, not our exception."